Social and health services
On 1 January 2023, social welfare and health care services will be transferred away from the municipality to regional administration and become the responsibility of the region. Until then, the necessary contact information is listed here.
Appointment booking for health services
Clinic
+358 28 398 0400
Mon–Fri 8:00 a.m.–4:00 p.m.
The low-cost municipal health care system in Finland includes
health care services
mental health and substance abuse services
services for the elderly
general social services
services for the disabled
services for children, youth and families
services for immigrants
In the public health care system, the maximum payment limit for client fees is €692 per year. Once you have exceeded the payment limit, you can apply for a certificate to show and after that you will receive most of the services free of charge. In families, the payments of under 18-year-olds are added together with those of the guardian.
Health services include appointments with doctors and nurses, physiotherapy, oral health care, vaccinations, family planning and maternity clinic services.
Pursuant to the Act on the Promotion of Immigrant Integration, services for immigrant clients must be arranged so that the client can understand the matters that concern him/her. The Act prescribes that whenever necessary, the authorities shall arrange interpretation or translation (section 5). Where possible, the authority shall also be responsible for arranging interpretation and translation in other matters concerning the rights and obligations of the immigrant. The matter may be interpreted or translated into a language that the immigrant may be deemed to know adequately in view of the nature of the matter.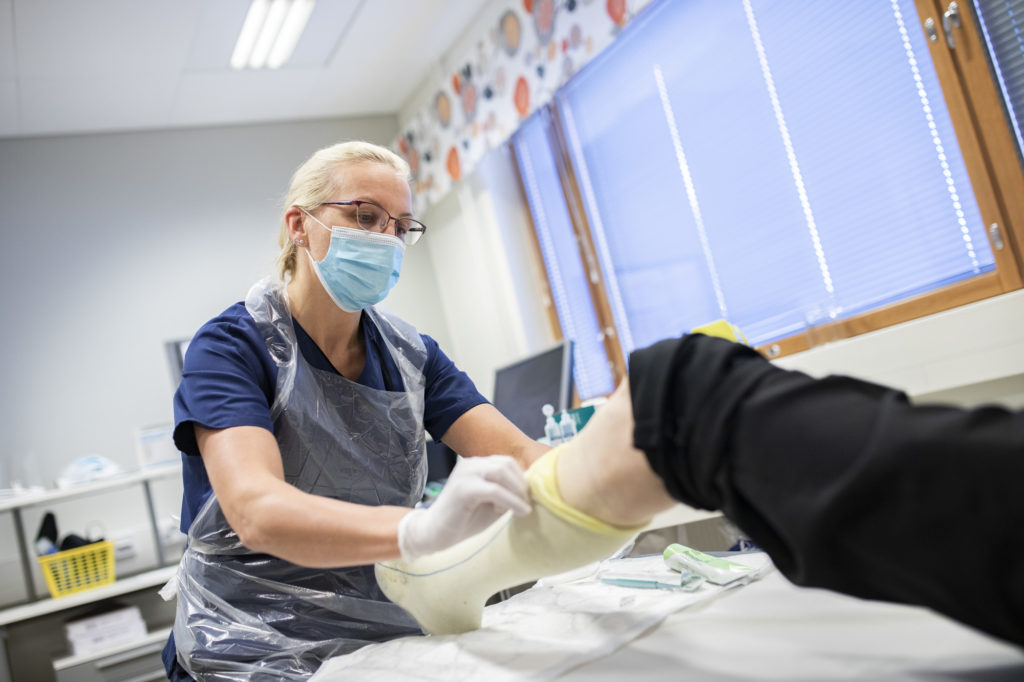 In emergencies
On-call service
Eura health and social services centre
+358 28 398 0400
Terveystie 3 Eura
On weekdays, Mon–Fri 8:00 a.m.–4:00 p.m.
On-call service outside office hours
Satasairaala Hospital
116117
Sairaalatie 3 Pori
On weekdays 4:00 p.m.–8:00 a.m. and on midweek holidays, 24h
Emergency Response Centre
112
Dental care
Eura health and social services centre
Basic social security services
+358 28 398 0476
Eura
Appointment booking and on-call service Mon–Fri 8:00 a.m.–4:00 p.m.
Poison Information Center
Opening hours: 24/7
+358 80 014 7111
+358 947 1977
Guidance for immigrants
Guidance for immigrants is a social guidance service for Eura residents from a quota refugee backgroun
The counsellor providing guidance helps clients to integrate in Finnish society through guidance, support and advice, until the client is able to use the services independently.
Janne Sivonen
Social worker
Social services for persons in working age
+358 44 422 4417
janne.sivonen@eura.fi
Terveystie 3 Eura
Telephone service hours: Mon–Fri 11:00 a.m.–12:00 noon
Eura family centre
Eura family centre is a multidisciplinary service network that promotes the welfare and health of children, young people and families, and provides early support, care and rehabilitation. Family centre services include maternity clinics and children's health clinics. Maternity clinics monitor the pregnancy of mothers expecting a baby and the health of the baby and the mother, and provide health advice. When the child is born, the child's health will be monitored at children's health clinic.

Family centre contact information

Jenni Susi
Service instructor
Family centre
+358 44 422 4433
jenni.susi@eura.fi
Satakunnankatu 12 Eura
Guidance relating to home help service for families with children
Mental health and substance abuse clinic
The services of the mental health and substance abuse clinic are intended for Eura residents over 18 years of age who need conversational therapy and support in life's crises. The team comprises two psychiatric nurses, a doctor and a psychiatrist.
Eura health and social services centre
Basic social security services
+358 44 422 4204
Eura
Appointment booking and guidance Mon–Fri 12:00 noon–1:00 p.m.
Services for the elderly
Age Centre Helpline
Basic social security services
+358 44 422 4079
Services for the disabled
Tiia Suominen
Social worker
Services for the disabled
+358 44 422 4076
tiia.suominen@eura.fi
Terveystie 3 Eura
Guidance and advice